Home → On-site Safety and Health Consultation
On-site Safety and Health Consultation
A safety and health audit by an experienced occupational safety and health professional can help you identify hazards and reduce or eliminate the risk of injuries and illnesses.
At your request, and at no cost to you, a SafetyWorks! consultant can visit your workplace and help you make it safer and healthier for workers.
SafetyWorks! is not OSHA and cannot issue fines or citations.
How can a SafetyWorks! consultation help a business?
A SafetyWorks! professional can come to your workplace and help you:
Recognize safety hazards
Sample for air and noise exposures
Reduce or eliminate hazards
Develop or improve a safety program
Comply with OSHA regulations
Identify training needs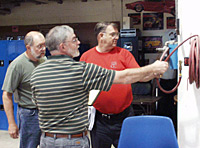 "If OSHA came, we wanted to have no problem. On top of that we wanted to be safe. So we asked SafetyWorks! to come and do some tours with us. They did that, they helped us understand some of the things that we might not have understood or even seen, and we do not hesitate to use them. We like to have them in here. I know some companies say well, I don't think we should have them in here...But that's not my thought. I think we should have them in and if they find a problem, then great, we can address it."
Shane Crouse, Pride Manufacturing
How can you request a consultation?
To request a free, confidential on-site consultation, fill out this form or call SafetyWorks! Customer Service toll-free at 1-877-SAFE-345 (1-877-723-3345). A person in authority - such as a supervisor, manager or owner - must make the request. After we receive your request, we will call you to schedule a convenient time for the visit. We can usually have one of our safety and health experts at your workplace within 2 weeks of your request.
What is the procedure?
Upon arrival at your workplace, the consultant will ask you about your concerns. To better understand your situation, he or she may ask to look at your injury and illness log, safety committee meeting minutes, and/or written safety programs.
The consultant may suggest that an employee participate in the visit. The consultant may also ask to speak with employees — their input can help identify hazards and solutions that might otherwise be overlooked.
Together, you (or your representative), the employee representative (if any), and the consultant will examine conditions at the workplace. Based on your request, the consultant will either survey the entire workplace or address specific areas or processes. The consultant may take air samples or conduct noise monitoring.
If the consultant finds a serious hazard that poses an immediate danger to employees, he or she will advise you to correct it immediately or to restrict the area.
Following the walkthrough, the consultant will discuss problems identified and possible solutions. He or she will work with you to develop a plan to control any serious hazards found. As part of the plan you may be asked to confirm when the hazards have been corrected. The consultant may offer suggestions for establishing or strengthening your safety and health program, including: employee training, safety and health committees, sources of additional technical assistance, or other ways to promote workplace safety and health.
The consultant will send you a written report with the findings and recommendations. He or she may call you to check on your progress in correcting any unsafe conditions found during the walkthrough. Of course, you may contact the consultant for additional assistance at any time.
What is the employer's obligation?
There is no cost for a SafetyWorks! consultation. The only obligation of the employer is to correct in a timely manner any serious job safety or health hazard found during the consultation. If an employer refuses to correct a hazard that poses an immediate threat to the life, safety or health of employees, a referral to OSHA may be made. In more than 25 years and many thousands of consultations, only one employer has been referred.
How SafetyWorks! consultants have helped Maine organizations
A consultation at a manufacturing plant saved 80 employees from potential electric shock or electrocution. During a general safety survey, SafetyWorks! tested electrical equipment and found 50 to 60 ungrounded outlets. The consultant recommended that a master electrician be brought in immediately to make the repairs. Without question, if someone stood on a wet floor and worked with the ungrounded equipment, that person could have been electrocuted. The manager appreciated the opportunity to correct a serious problem before someone got hurt.
A construction contractor asked for help with back injuries. By reviewing injury records the consultant zeroed in on the situations that were causing the injuries.
She discovered dump truck drivers had the most back injuries. Knowing that, she could help the employer design a program that would work for the company. The SafetyWorks! consultant helped reduce injuries and costs.
SafetyWorks! consultants approach indoor air quality problems like detective work. By examining the physical space and the ventilation system and talking to employees in an office building, a consultant was able to make realistic low-cost recommendations to improve conditions in one office building. Sometimes the solutions are simple. In this situation the problems improved after employees were moved to different areas of the building.
At the suggestion of his insurance carrier, the owner of a small wood shop asked SafetyWorks! for a general safety and health consultation.
The consultant found excessive noise levels and overexposure to wood dust, typical conditions in this type of shop. The consultant recommended exhaust ventilation to reduce wood dust exposure and told the owner about low interest loans available for safety improvements. He also recommended a hearing conservation program and, at the owner's request, trained the employees on hearing protection. The consultant provided a full range of SafetyWorks! services: air sampling, recommendations for controlling problems, training, and resources for additional assistance.
For more information about SafetyWorks! consultations or to request services, call 1-207-623-7900 or toll-free 1-877-SAFE-345 (1-877-723-3345).